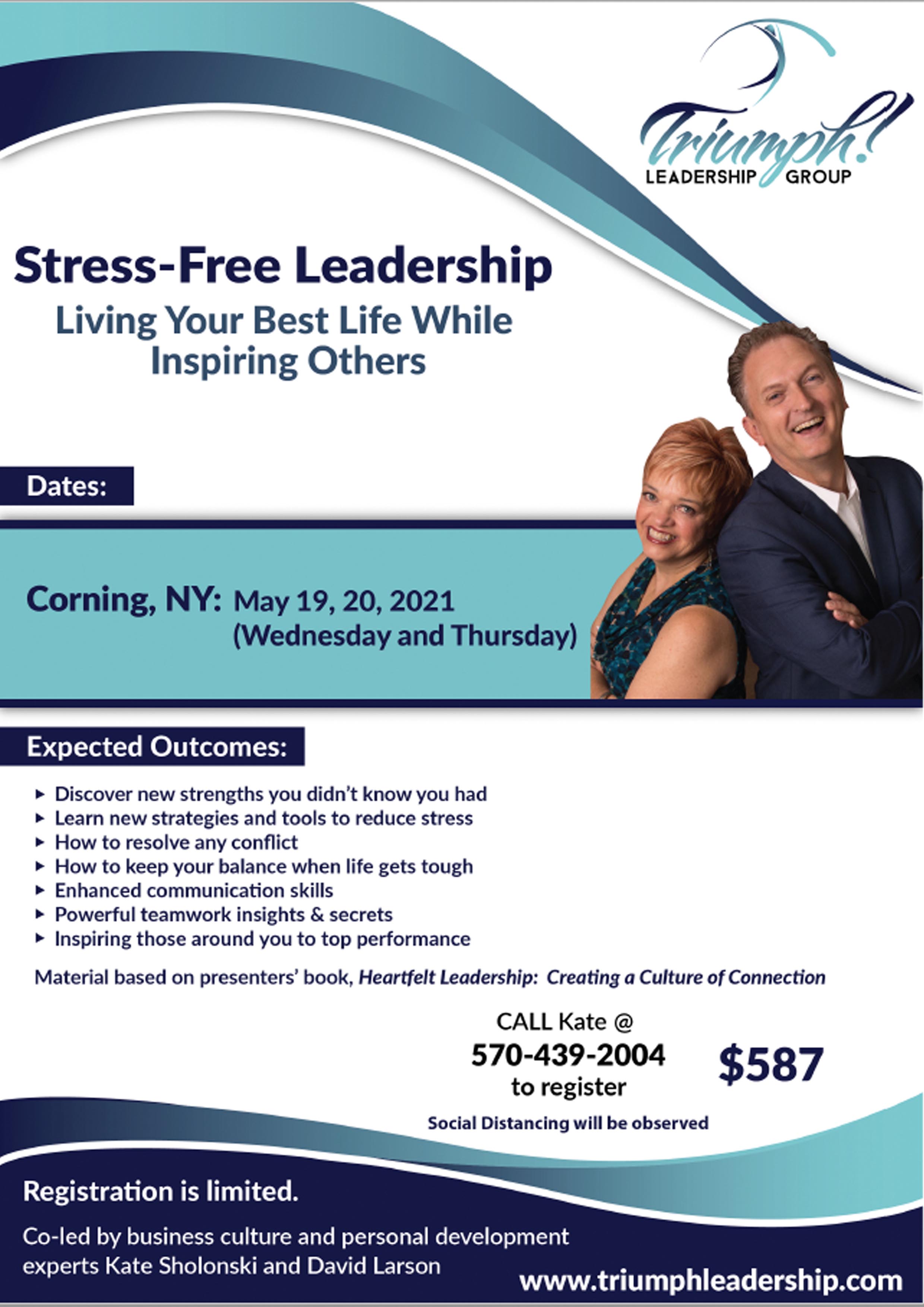 Stress-Free Leadership Workshop
Objectives

Participants will:
• See themselves as leaders and responsible for moving their department forward,
even if they don't have a leadership title
• Be able to identify at least 3 relationship-building strengths that were previously
underused
• Take responsibility for how they contribute both positively and negatively to the
atmosphere of their workplace
• Learn how to bring out the best in others by identifying the qualities that
make each individual a unique asset to the team
• Learn how to minimize office drama and resolve conflicts while gaining trust
and respect
• List personal hooks and triggers that make them vulnerable to negativity, and one
or more sure-fire ways to side-step those hooks
• Use two or more of the powerful communication strategies practiced in the
session to facilitate positive outcomes
• Learn the 5 components of TRUST to elicit cooperation from co-workers and
subordinates
• Practice new strategies of awareness to mitigate stresses and move through
challenges with greater ease and with a higher level of productivity
---
Expected Outcomes:
-Discover new strengths you didn't know you had
-Learn new strategies and tools to reduce stress
-How to resolve any conflict
-How to keep your balance when life gets tough
-Enhanced communication skills
-Powerful teamwork insights & secrets
-Inspiring those around you to top performance

Material based on presenters' book, Heartfelt Leadership: Creating a Culture of Connection
Corning NY, May 19, 20, 2021 (Wednesday & Thursday)

Call Kate @570-439-2004. to register.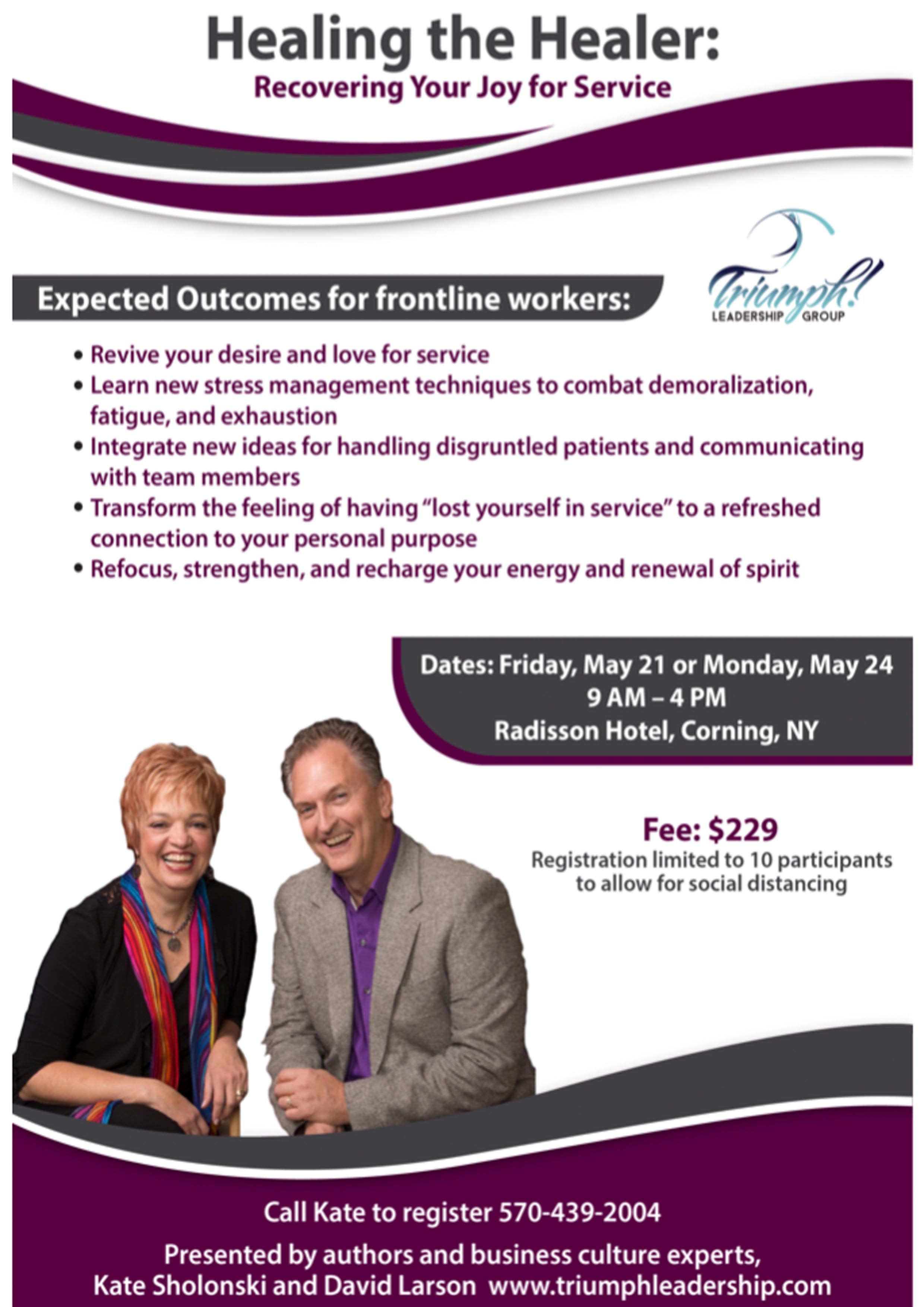 Healing the Healer:
Recovering Your Joy for Service
---
Expected Outcomes for frontline workers:
• Revive your desire and love for service
• Learn new stress management techniques to combat demoralization, fatigue, and exhaustion
• Integrate new ideas for handling disgruntled patients and communicating with team members
• Transform the feeling of having "lost yourself in service" to a refreshed connection to your personal purpose
• Refocus, strengthen, and recharge your energy and renewal of spirit
---
Dates: Friday, May 21 or Monday, May 24 9AM - 4PM
Radisson Hotel, Corning, NY

Call Kate @570-439-2004. to register.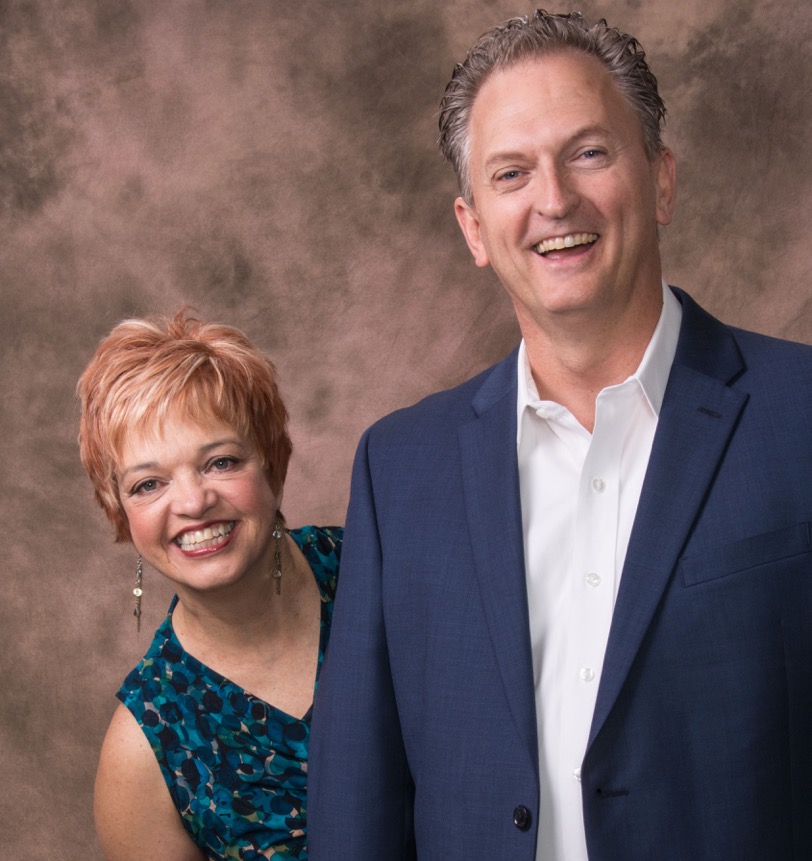 Two days of eliminating blocks so you can manifest your best self.
Locking in your worth and your power to make desired, miraculous changes in yourself and in 10 major areas of your life. Leave with complete confidence, the absence of fears, a strong community of support, and strong relationships with like-minded people. Kate and David share their greatest secrets to happiness and peace. Is it time for you to finally get what you want out of life? If your answer is yes, call us.
Workshop Dates:
Periodic dates throughout the year.
Contact Kate or David for more info.
570-439-2004
Investment: $1,500.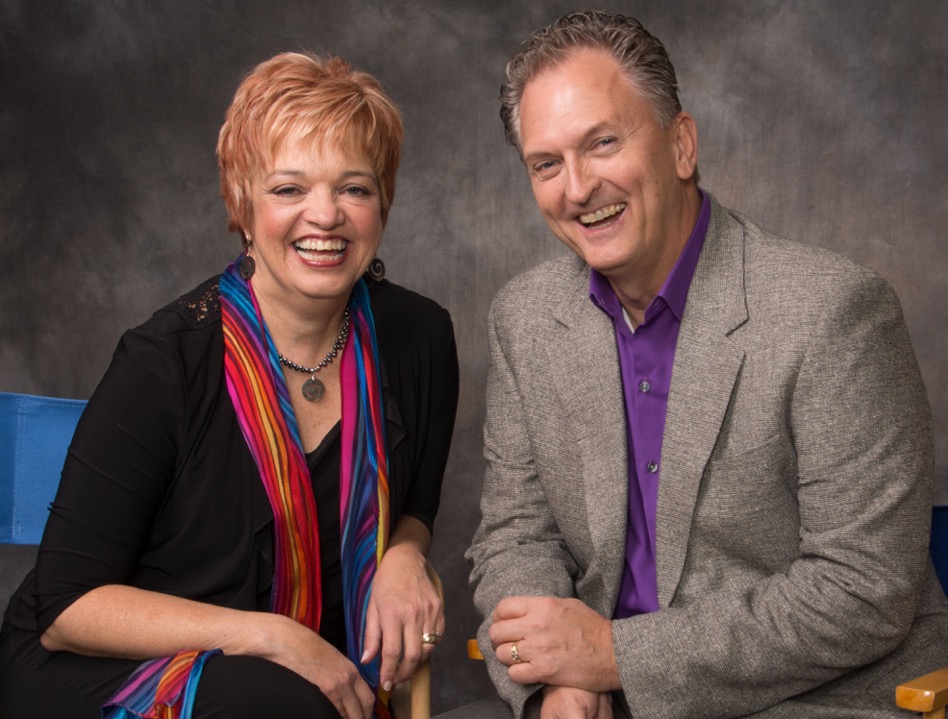 After clearly being able to see your own magnificence in Life Mastery 1
Spend two days with Kate and David acquiring the tools and support to bring your powerful and positive influence to the world. For those who enjoy peace over stress, learn to lead yourself and others confidently in a purposeful and meaningful direction. Claim your power to influence the world in ways that really matter.
Workshop Dates:
Periodic dates throughout the year.
Contact Kate and David for more info.
570-439-2004
Investment: $1,500.
Testimonials 2021
Kate & David are unquestionably the best in the business.
Their unique method of delivery will leave their lessons
imprinted in your mind forever. Their training is the best "gift"
you could give yourself.
Pam Burrous, Operations Supervisor, Dominion Energy
Transmission
---
This experience was very inspiring and touched the core of my
being. The Heartfelt Leadership training has definitely helped
make me a better leader to my team. I am forever grateful for
the experience and the kind hearts of David and Kate.
Shannon Sawyer
Executive Housekeeper
Radisson Hotel, Corning, NY
---
I wanted to jump out of my chair and get started on using my
natural gifts in ways I never have before. I now feel so much
more confident in handling difficult conversations. David and
Kate will inspire you to take hold of your professional and
personal life and ultimately, push you to live a joy-filled life.
Brook Wise, Community Development Manager, American Cancer
Society
---
"I've been to a lot of leadership trainings…this brought it all
together for me…the light went on."
Jim Hamilton, Dominion Energy Transmission

---
I found this workshop to be illuminating, and soul-stirring. David and Kate
approach their topics with a conviction and profundity that I feel is
unmatched. I know now my employees and I together will shatter
expectations instead of just meeting them.
Apryl Tubbs
Family Service Supervisor
Head Start, Inc.
---
I just wanted to say that I absolutely LOVED the Heartfelt Leadership
Training. I am implementing all of the wonderful skills that I learned and
having a much lower stress level. Thank you so much for developing this
training and delivering it in a way that is relaxed, safe, and interactive. It
was a very relaxing and serene environment. The whole experience was
amazing, transformational, and educational. I have already begun
implementing the techniques I learned and I am amazed at how others are
responding.
Belinda M. Hoad, MBA
Associate Director
Institute for Human Services, Inc
---
WOW!!! What an amazing two days. I have never felt so
comfortable with a group of "strangers" so quickly before. I left
feeling Refreshed, Enlightened and Grounded.
"DON'T miss an opportunity to attend, the work will be there
when you get back but the stress won't. This training is
transformative, keep an open mind and an open heart and it
will change your world!"
Michael D. Zinck
Dominion Energy Transmission, Inc.
---
I have attended several workshops and trainings to further
develop my leadership skills. Heartfelt leadership was very
different from all of them.
The time we spent together, although brief, was extremely
memorable and powerful. I can honestly say that I would love
for each of my team members to experience this training! I can
hold them accountable and…be on the same page. I want
them to realize their gifts and potential as leaders and to
experience the same emotional connection that I experienced
during our time together.
Shelly Krellner
Director of Sales, Radisson Hotel
---
When I first heard about this course, Stress-Free Leadership, I
laughed, but after experiencing it, I get it. It works! I really
look forward to putting all of the great information that I
learned to use in my job and in my life.
David Stryker, Program Supervisor, Arbor Housing and Development,
Corning, NY
---
David and Kate are clearly experts, yet they teach in a way
that makes attendees feel like the most important people in
the room. I found the workshop to be eye-opening and
fulfilling. I left with a much better picture of who I am and
how I want to lead.
Lisa Hall Zielinski
Director, The University of Scranton Small Business Development
Center
---
This is the best training I've ever experienced! Upbeat, Moving,
and Personal. I felt like I was a person not a client
right from the start.
I have used heartfelt leadership skills since attending the
class; I have had a more positive attitude, been in a happier
mood, and shrugged off little things that used to bother me
before. I am a better person today for meeting Kate and David,
and will continue to use their teachings as a means of good
leadership.
Scott E. Beebe, Dominion Energy Transmission Inc.
---
"Heartfelt leadership inspired me to step back and view myself
and my relationships from a perspective of presence and
compassion. Kate and David make vulnerability into fun and
engaging playtime. Fears, frustrations, and insecurities simply
melt away in this class…"
Kim Gridley, Planning Specialist, Tioga County, PA
---
Awakening, Refreshing, Warming ~ David and Kate's
relationship with one another made this experience so much
more unique and engaging than I could have ever
expected. They're energy and cues with one another are what
really made the experience something to learn from and
grow…feeling ready to be a game-changer in the workplace.
Meghan Beardsley, Analyst, Customer Logistics, American Cancer
Society, Inc.
---
"It's not often, if ever, that anyone has an opportunity to
attend a seminar or training where the facilitators present
from the heart and the heads! David and Kate have nailed
it! They have a heartfelt way of engaging their audience while
the listener's inner self is enlightened and
awakened. Powerful, Engaging, Enduring."
Kimberly Womeldorf
Director of Programs & Services. Roads to Freedom CILNCP
---
David and Kate combine their distinctive gifts to stretch you
outside of your comfort zone and challenge you to own your
gifts to be your own best leader. It is the combination of their
unique individual personalities that make this class different
than other leadership training.
Cynthia T.
International Trade Program Manager
Northern Tier Regional Planning and Development Commission
---
Engaging, Empowering, Refreshing. I have no words for the
beauty and truth I found in myself with your teaching
methods. You are fascinating to watch together, brilliant.
Ann Holleran, Dairy Farmers of America
---
Thank you for the great opportunity of attending your
seminar! So powerful, inspiring and enlightening! You two are
contagious! I loved every minute of it!
Sherrie Sargent, Regional Office Manager, AAA North Penn,
Williamsport, PA
---
Kate and David engaged the participants without the use of
detailed PowerPoint slides and not only encouraged but also
facilitated open dialog from each participant. The small group
helped with that level of introspection from each person
making the experience more valuable on a more personal
level. Both were very laid back, knowledgeable, personable,
and non-judgmental. I appreciated the open space, so to say,
for participants to share situations from their own workplace.
Janice E. Bennett Education Coordinator, Organizational Development
The Guthrie Clinic
---
This training was a great experience and recommended for all
leaders from any industry. The utilization of personal stories
made it easy to learn and devour the information.
Jody McCarty Workforce Program Manager, Northern Tier Regional
Planning and Development Commission, Towanda, PA
---
I found this workshop to be illuminating, and soul-stirring. David and Kate
approach their topics with a conviction and profundity that I feel is
unmatched. I know now my employees and I together will shatter
expectations instead of just meeting them.
Melissa McPherson
HCV Program Supervisor
Arbor Housing and Development, Corning, NY
---
My perspective and approach to leadership has changed. I
already feel more relaxed, and take things less personally, and
know how to help my workers tell me what they need to
perform at their best.
Lori (Lyons) Patterson, M.Ed., NCC
Associate Director for Career Advising and Student Development
Career Advisor for Social Science Cluster
Williamsport, PA
---
Awakened, Inspired, Pleasantly Surprised ~
This training has slowed me down, allowing me to be a better
leader.
Frank Miller, Plant General Manage, Panda Patriot, Montgomery, PA
---
What was unique about the workshop was the obvious impact
it had on everyone that attended. I was impressed by how
engaged and applicable the presentation was to everyone there
though we were from all types of work settings. It was
encouraging, inspirational, and uplifting.
Mary Jarreau, Wellsboro, PA
---
My three highlights: I felt humbled, enlightened, and cared for.
The teaching by David and Kate was very collaborative,
inclusive and was much more FUN than most workshops.
Michael Detweiler
Mansfield Borough Mayor
Mansfield, PA
---
If you want to escape the prison of your own negative
thoughts, and want to become the best version of yourself, you
need to take this course. Kate and David are among the most
compassionate folks I have ever met, and they in turn, have
taught me how to be kind and compassionate with myself. I
feel confident that whatever life throws at me from this point
on, I will be OK. In fact, I will be more than OK. I will find joy
in everyday!
Sherri Stager, Artist, Mansfield, PA
---
I found this workshop to be empowering, encouraging and lifechanging!
I believe this experience will make a world of
difference in my leadership, specifically in my abilities to role
model positivity, respect, and personal connections.
---
Introspective, Fun, Safe ~
David & Kate have an energy and synergy that works well
together. They communicate ideas and concepts in a variety of
ways, which helps all types of learners understand and relate
to the message being conveyed.
Renee Potter, Controller, Mansfield University
Mansfield, PA
---
Taking this course has been life changing for me and I am just
getting started on practicing what I learned. I have already
paid myself back in leaps and bounds by being less stressed
and being in-service to others.
Tea Jay Aikey
President & CEO, Central PA Chamber
---
This education was inspiring and fun! What I observed in
Kate and David's teaching was the complete flow of energy
between each other. The excitement of their presentation was
contagious and joyful. They were able to go with the flow and
make adjustments as needed. They are very inspiring and
great fun to be with.
Lee Anne Dolan
Wellsboro, PA
---
Inspiring, hopeful and awakening! ~
I always felt completely included in the discussion and the
lessons. I am now much more aware of the uniqueness in each
of us and will respond accordingly in working with my team.
Sue Guss, Lead Lab Tech, Dairy Farmers of America, Wellsboro, PA
---
I have never been to a workshop with such highly personalized
teaching methods. David and Kate welcome and support
everyone's participation and have a wonderful bond and style
of interaction with each other, allowing us all to relax and
enjoy the process.
Cath Mulcahey
Learning Specialist and Academic Advisor,Mansfield University of PA
Owner and Certified Health Coach/Alive and Well Coaching,
Wellsboro PA
---
Incredible! Stress-Free Leadership was life changing for me!
Kate and David were very personable, joyful, passionate,
caring and funny! It was great to be part of a small group and
to not have to stare at Power Point slides for two days. I am
now determined to be a fearlessly authentic leader, not just as
a manager, but as a human being!
Amanda M. Stuart
Center Manager, Nonnie Hood PRC
Corning, NY
---
Positive, Inspiring, Amazing. This workshop and it's
facilitators are amazing! The workshop is very interactive and
gave me the tools to be my best self.
Krystle Blencowe, M.S.Ed
Director, Steuben Rural Health Network Institute for Human Services, Inc.
© 2021 Copyright by Triumph Leadership Group. All rights reserved.
Photos by DART
Hosting by Electron Monkey LLC