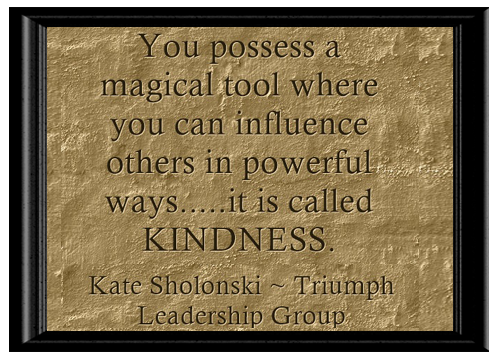 There seems to be a difference of opinion regarding the best and most effective way to teach, lead or manage people. Many believe that in order to be honest and direct you need not take another's feelings into account. Others believe that an honest critique can be given without threat of humiliation to the recipient. In fact, it can be done in a way that actually brings out the best in each individual.
About 40 years ago, I had the privilege to be a student in a Psychology course where I learned this lesson first hand. Interestingly, the professor happened to be my husband. It was a continuing education evening class, filled almost completely with mature/non-tradional students, many of which had not been in a classroom setting for 30-40 years.
Part of the class requirement was for each of us to do a paper on a topical social issue, as well as give an oral report on the subject.
Over the course of the semester, I overheard many fearful conversations of dread, especially from the elders in our class. As the semester was drawing to a close and the time came for us to pull numbers out of a hat for the queue for presentations, the fear of "blowing it" built to a very uncomfortable level amongst many of my classmates.
The first speaker was Marian, a retired office manager. She was a kind, grandmotherly woman that had great energy and enthusiasm for learning. She was very excited to be back in school, working toward her degree. I watched Marian physically shake as she walked to the front of the class and turned to face my husband sitting in a front seat. I can remember trying to send her encouragement by my thoughts as if my believing in her would catch hold and allow her to relax. As I looked around, I could also see my classmates were simultaneously willing her to do well with their encouraging smiles.
I watched Marian take in a deep breath and begin her story. It was a bit of a weak start, but soon she began to recount an incident that had occurred in her life as a child. Her fear melted before our eyes as she seemed to relive a magical time in her life.
Although there were some rough spots in her talk, she obviously not only survived, she was deeply relieved to have it behind her.
Next came the time for her to hear the professor's feedback.
I saw her take in a deep breath to brace herself as my husband began his comments by saying, "First I'd like to share what I really enjoyed and appreciated about your talk". He then stated several points that acknowledged her research, her story telling, enthusiasm and the overall concept. I watched as Marian exhaled a sigh of relief. She was not humiliated or embarrassed or put down for a less than A+ quality presentation. Instead, she was told what was good and was then clearly shown where she needed to grow.
I was amazed at how not only Marian was able to take in the feedback, every other student got a taste of the treatment they could also expect when their turn to speak came around.
Some may say this is coddling. Others, like myself, see this model of leadership as an effective way to teach without tearing someone down or crushing their confidence. An interesting side point of this story is that the subsequent speakers, myself included, approached this assignment with less fear and greater confidence, trusting we would not be torn down and ripped to shreds of embarrassment.
The bottom line is we all want to know there is something valuable within each of us. Knowing that our value is known and appreciated better allows us to be more open to taking in what we still need to learn so we can continue to grow.
In our work with individuals and teams, we also practice this model of leadership as we create spaces that are safe and welcoming for people to be fully present, open and authentic.
Without question, it is in the safe spaces, we can each learn to be and do our best.