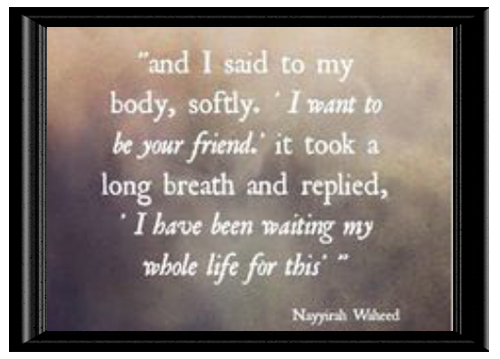 The first day of January can be a very powerful day. Many of us see it as an opportunity to set ourselves on a better course than the previous year and finally get what we want in life. Unfortunately, It can also be a time where we make a lot of promises to ourselves and then forget about them in a week or so and go back to feeling like slugs that cannot keep a commitment.
So why is it that the feel of this brand new, shiny new year that holds so much promise can disappear instantly or gradually, (depending on our individual style)?
As I consider this question, one thing that comes to mind is that we often make promises to ourselves that come from a place outside ourselves.
For instance, if we make a resolution to stop smoking, lose weight or finally go back to school for those last three credits we need to get our degree, because our actions will please others and will finally prove our worth and value, that goal does not come from our highest self, but from the outside world. What's missing in those cases is the foundation of love and respect for ourselves.
Maybe we feel inclined to make a change so we can prove to ourselves and others we can actually do something we set our minds to and aren't wishy washy nothings that we believed we were last year. Once again, the source of motivation comes from a place of other's perceptions, not from a place of love.
Whatever the external reason that causes people to slow down, stall and eventually give up is a missing link that surpasses all others when it comes to getting people to reach the finish line of achieving their goal. In my view, this block that causes us to get stuck or keep us repeatedly running in circles and re-living the same old pattern, is a lack of unconditional self-love.
Consider this. . .when we show our unconditional love for our family or friends, there are no limits. We will do anything we can to support and assist them in being and doing their best. It's natural. We can't help it. We make sacrifices, spend money, give our time and hold their needs and desires as priorities in our minds, because we love them without condition. But when it comes to ourselves, it's easier to let our personal needs and desires slip away like grains of sand that fall between our fingers because the love factor is missing. In my experience most people do not see themselves as deserving of the same time, attention or money to assist them on their personal paths because they feel guilty about outwardly investing in themselves.
If we learned to love ourselves as we love others, it would be natural to take impeccable care of ourselves so we can be at our best in every compartment of our lives. We would also no longer focus on trying to please others in hope we will be loved back, because we would already know we are innately lovable and deserving, simply by being who we are.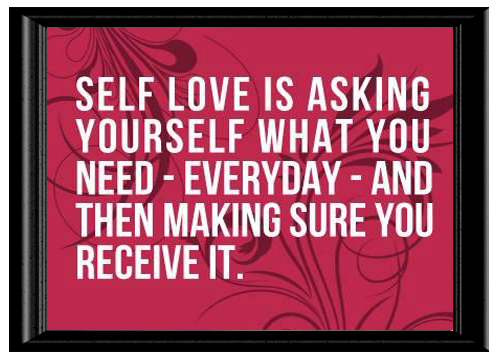 A great way to test this philosophy that may be the secret weapon for you when it comes to honoring your self commitments is to ask yourself when you are faced with the choice to smoke that cigarette, eat that donut or roll over and go back to sleep rather than go the Gym, "What is the most loving and honoring thing I can do in this moment?" My bet is if you come from a place of self- love you will lean towards the action that your heart has been whispering to you all along and that is something that would be in alignment with you being your best.
Now if you're thinking your motivation and determination can over-ride this concept of self-love and you can get whatever you want done, no matter what, I congratulate you. I also believe that the path to your desired outcome can be so much more enjoyable and likely easier to accomplish with self-love guiding you since love melts resistance and will cause you to flow to your desired outcomes with greater ease.
Self-love, especially the unconditional variety is not always easy, since we grow up working hard for the approval of others. It can be cultivated, however, by a variety of practices. Noticing your self talk is a great place to start. What messages do you regularly tell yourself? Are they supporting, loving thoughts or demeaning and critical? Also notice your patterns of self care. Do you only take time for yourself after everyone else is cared for? How do you spend your free time? Are you always on call or do you actually schedule time for you?
The bottom line (or paragraph in this case) is to be aware of how you see yourself and then be intentional about changing your old habits of thinking and actions to ones that actually assist you in living up to your greatest potential. When you ask yourself why you want to create something new in your life, take the time to focus on how that will feel and what other changes will come as a result. I promise you a practice of self-love and choices that match will eventually show you that honoring yourself in this way will not take away from others, but will actually serve them as well.
With love, you can make 2016 into a new year lived in a new way!