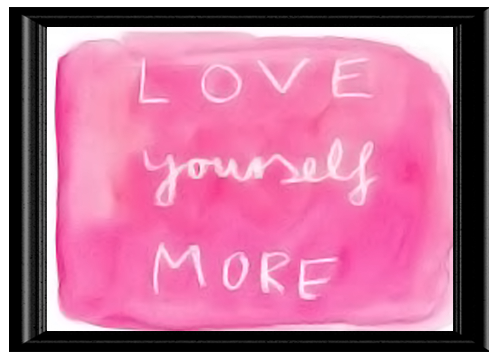 One of the most important things in creating and sustaining an alive relationship with someone else is to be very good at loving yourself. It is in loving ourselves we practice the skills needed to love someone else. It's like going to the gym of relationships. If you do not exercise regularly, you cannot call on your muscles to perform with ease and efficiency when needed in the moment. When it comes to relationships, you practice with yourself. You be the person to yourself you want to be to others. You treat yourself how you want others to treat you. Most people want to skip this part. You cannot give what you do not have.
Trying to love others more than loving yourself is like trying to teach tennis when you've never played the game.
You must practice the strokes again and again many times so you know how to do it right before you can play well with others.
If you want to love someone else, you have to have the skills of loving ingrained in you. If you want someone else to be kind, loving, and respectful to you, you have to know how to give that kindness, love and respect to yourself.
Far from being a selfish activity, loving yourself is the least selfish thing you can do, because it makes you an expert at being a good lover. To be the best lover, and to know how to receive love from someone else, you practice, practice, practice. And unlike having your mate around all the time to practice with, which isn't realistic, you are always with yourself, so you can always practice on yourself. This is one of the great secrets of creating outstandingly satisfying relationships.
~~~If you are an empty nester and understand the value of LOVE for yourself as well as for your partner and children, consider joining us for our Empty Nester Marriage Celebration Retreat. http://wellsboro-pa.com/ST/empty-nester-marriage-celebration-retreat/
For information about our early bird discount and to REGISTER, click here: https://www.eventbrite.com/e/empty-nester-marriage-celebration-re-feathering-your-nest-in-the-rocky-mountains-tickets-17756938481 ~~~