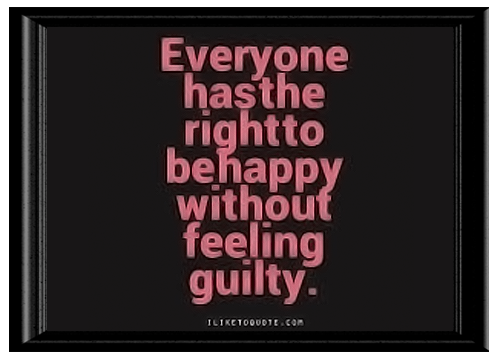 Regardless of the circumstances, the situation, a person's history or the time in one's life, guilt is not a particularly helpful state of mind. Guilt does not make anything better. It does not make up for past mistakes nor does it provide peace, and it is certainly not the best and most effective way to demonstrate love.
Somehow, somewhere along the line many of us were taught that it was good to use guilt as a reason to not do something good for ourselves. Some wear it as a badge of honor, showing how committed we are to others and how self-less we can be.
Some empty nester couples tend to feel guilty about turning their attention toward themselves when their chicks have left the nest.
When guilt is the choice, the result can be to live smaller than the dreams they have envisioned for their lives.
Sadly, many believe they are showing love to their grown children by using guilt as a reason for things to stay the same, even though life is changing all the time, whether we believe we are allowing it or not.
In contrast to the life model of GUILT, we encourage individuals and those within a committed partnership to look at the benefits of shifting their attention to what they want for their lives and experiencing the thrills and joys of life, rather than using guilt as a reason to live small.
An empty nest is a life stage. It is natural. It is normal. Embracing it and doing your best to enjoy fully makes the most of it and in fact, can be the launch to a life that is better than you have ever imagined.
Guilt will only cause harm to oneself, the relationship with one's spouse and with their children. There are no redeeming qualities of guilt.
Another added healthy perspective to this scenario is that couples that embrace life fully, without regrets and without guilt are role modeling for their children how to live an empowered and full life at every stage.
~~~If you are an empty nester and are ready to move into this stage of life without guilt and with complete love and desire for it to be a highlight time of life, consider joining us for our Empty Nester Marriage Celebration Retreat. http://wellsboro-pa.com/ST/empty-nester-marriage-celebration-retreat/
To REGISTER, click here:https://www.eventbrite.com/e/empty-nester-marriage-celebration-re-feathering-your-nest-in-the-rocky-mountains-tickets-17756938481 ~~~